Latest Updates
Wray Flower and Produce Show 2022
Wray Institute is proud to announce the return of the Flower and Produce show.
27th August 2022. Please see the documents linked below for details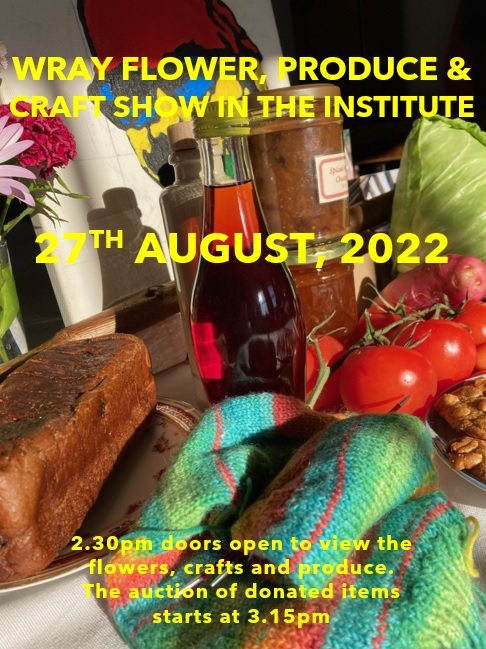 Institute Committee Updates
If you want to get in touch with the Institute Committee you can email us at wrayvillageinstitute@gmail.com
if you want to keep up to date with what is going on please jointhe Institute Facebook group.
If you want to see what is scheduled please look at our Google Calendar here.
If you want to make a booking then please complete our Online Booking Form.
Wray Institute Committee.
---
Message from Wray School : No Dogs on School Field
No Access to the public whilst the school is in attendance.
Wray-with-Botton Primary School has made the decision to ban dogs from the school field with immediate effect.
As a popular meeting destination for the whole village (for both the two and four legged occupants), this wasn\'t a decision we made lightly, but after countless polite reminders over the years we have reached the stage where the situation has become untenable. We should not have to check the field for dog fouling before allowing the children in our school to use it.
We apologies to the many dog owners in Wray who use the field with their pets responsibly; unfortunately it is the actions of the few that have made this decision necessary. We hope you understand our decision; the safety of our pupils must come first.
On a related note, we also politely request that the public do not walk accross the field whilst the school is using it, as this presents a serious safeguarding concern.
Thank you all for your support an co-operation.
Wray-with-Botton Primary School
---
WEBSITE ADMINISTRATION
Administration of this website is done by Wray Village Institute Committee. If you have any suggestions/comments then please email webmaster@wrayvillage.co.uk
---
!!! LOCAL BUSINESS OWNERS!!!
If you are running a local business that serves the village of Wray and the surrounding area. Please get in touch if you are interested in being on our local businesses link page.
We will require a logo, a link to your webpage/social media and/or contact details. email webmaster@wrayvillage.co.uk
---
!!! LOCAL GROUP LEADERS!!!
If you are running a group, club or society in the village of Wray (or nearby) and would link a link on our page please get in touch.
We will require a logo, a link to your webpage/social media and/or contact details. email webmaster@wrayvillage.co.uk